A christian church
of all Nations
[shop-feature-v2 icon="fa fa-fire" heading="PRAY" subheading="It all begins at His throne. When we fall down before His feet."]
[shop-feature-v2 icon="fa fa-heart" heading="LOVE" subheading="It all begins with love. Begin with Loving."]
[shop-feature-v2 icon="fa fa-quote-right" heading="GIVE" subheading="If you couldn't do this before, then begin today."]
A church Service with
Reverend IRIS NANETTE TORRES
Reverend Torres will be visiting our church from the 16.-20. May 2019. She will also be preaching this Sunday on the 19.05.2019 at 11 am in our church. She pastors a church in Puerto Rico with over 5000 memebers and is glad to share her wisdom and Experience in the Lord with us. Don't miss her..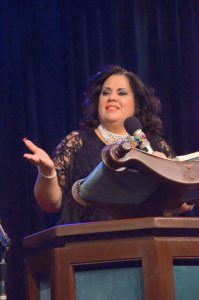 Welcome,
Our church is made up of dozens of Nations and is a part of the federation of free Pentecostal churches in Germany (BFP). We love Fellowship and believe in a Love greater than all our differences.

Our Services are Held with moving Messages and deep worship whereby mostly in different languages. – mostly in Spanish and German. Translation into other languages (English, Italian, Turkish, Romanian) are possible upon request. Just tell us your language before the church service begins.
-Pr. José Montas
[simple-sermons-v1 number="1″]
[panel panel_title="The Genesis of our Church" panel_content="It all began with a Vision in the year 2000, a time where i was very desperate.." animation="bounceIn"]